If you have been wondering how to record your computer screen without having to spend tons of money on software, wonder no more! Soapbox is here.
Wistia, the video hosting and sharing company, just released Soapbox today (June 12th, 2017). Now it is crazy easy to record your computer screen – with or without (or both!) your face (using your webcam). And it's ridiculously fast.
What Is Soapbox?
Great question. Soapbox is a free (I know, right!) Chrome extension. So whenever you feel like creating a video recording of your computer screen, just click the Soapbox icon in Chrome (see pic on the right) and start recording.
Soapbox records BOTH your face, using your webcam, AND your screen. You just start recording, narrating whatever is interesting about your computer screen.
When you're done recording, you can edit your video, trimming start and stop points and choosing when to show just your face, when to show just the screen, of just leave both for the whole video.

When you are done with that, click the giant "Share" button in the bottom right corner (see other picture on the right), and a link will be put into your clipboard. Just paste the link anywhere you want to share it.
How Fast and Easy Is It Really?
Very! From the the time I clicked the Soapbox icon, to the time I finished editing AND posting this into the space below, only about 45 seconds elapsed! That's insanely fast and easy. I think anyone would agree.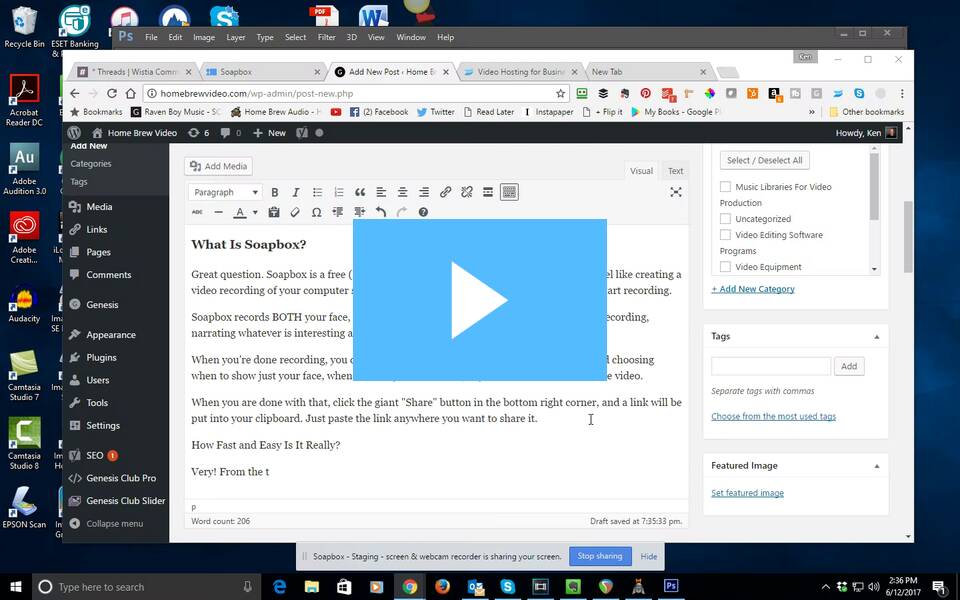 Soapbox Quick Recording — Jun 12nd, 2:36:17 PM
Yeah, it's a pretty short recording. But if you have spent any time at all recording videos, and then uploading and sharing them on the web, you'll know that it takes forever, usually. And most of that time spent in the editing, uploading and sharing pieces of that process.For example, I teach online courses (Check out free videos from one of those here:
Free Videos From The Newbies Guide To Audio Recording Awesomeness
) using
Camtasia
. On average it takes me an entire day to record, edit, upload and share a video lasting only 3 minutes!
Granted, Camtasia offers a lot more bells and whistles for editing and creating. But if all you're trying to do is send someone an example of how to do something on a computer, or show someone exactly what you are seeing, Soapbox is a no-brainer.
What is Soapbox Good For?
Training
Customer Service
Sharing With Family and Friends
Since you can record your computer screen and show yourself, it is perfect for training. Not all training videos need to be slick productions. I make videos all the time for co-workers and friends. And as I mentioned earlier, normally it takes awhile even to record those.
I actually (this was last week!) had a friend snap a picture of her screen with her iPhone and put that into a text while I was trying to help her with something! It would have been MUCH faster and better to record a video (as opposed to a static picture) and send me the link.
And how often are you having an issue with something, and need to explain exactly what's going wrong to a customer support rep? With Soapbox, just record a quick example of what's happening and send the link. That could really speed up problem solving for you.
And of course, if you don't really need to record your computer screen, but just want to send a quick video message to friends and family, Soapbox makes that easy and quick. Remember, when editing, you can just click the "head" icon and the video will only be of you minus the computer screen.
I'm sure I've just scratched the surface here. Soapbox has such a lot of potential. Go get it for yourself right now. Remember – it's free!